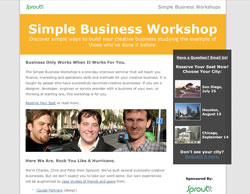 I stumbled across this the other day, the guys behind Sproutit are touring the continental US with a workshop aimed at showing small business how to use Web 2.0 applications to help run their companies – called the Simple Business Workshop. This is a great idea and an awesome way to match the great work coming out of Web 2.0 focused companies and the small business owner who is too busy working in their business (instead of on it) to discover these applications.
What use is this to us in far away NZ? Well if you are new to these new companies and applications it is a good introduction to the half-dozen they have chosen to show off as productivity apps for small biz. Look at the list on the bottom right of the page and follow the links if you are not familiar with any of them. It includes: Sproutit, Blinksale, Dabble DB, DropSend, Fluxiom, and Shopify.
And if you haven't already, check out Sproutit's product "Mailroom". It looks like an excellent application to help any small business with limited resources that communicates with customers via email. The demo is amazing – these guys do an excellent job of presenting (they just need some more help making it more polished).