When I still worked at Intergen, Trey put me onto Mozy. It's an insanely-great online backup tool. It works on a PC or a Mac, it works in the background with minimal fuss, keeps the different versions of your files, is very lightweight, and has a very generous free account.
I love it. It has saved my bacon while I've been working on Ponoko more than a couple of times.
Today, as a Mozy user, I received their May newsletter (don't think we've seen one at all before…). A big part of my role at Ponoko is email marketing so I pay a lot of attention to what others are doing. Below is the "lead" story in their newsletter: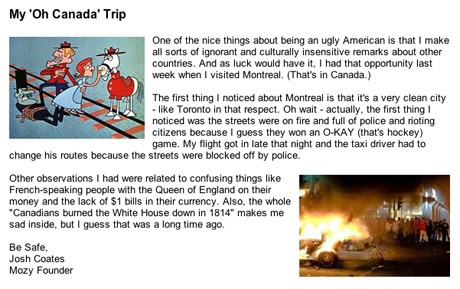 First thought: WTF was he thinking!? I'm almost speechless beyond that…
It has nothing to do with their product (which is awesome) and manages to insult Americans, Canadians, Quebecois, hockey supporters, and probably his staff as well.
Then again, had he not insulted all those people I could probably guarantee I wouldn't be blogging about his newsletter or his company or his product.
What do you think? Insanely stupid or insanely smart?