Imagine it's lunch-time. You're sitting at your desk stuffing your face with some kind of nutrition-less processed snack and you think to yourself: "Ooh, I better check my bank balance".
Trawling through your credit card transactions, buried between Hell Pizza and numerous iTunes charges, you see:
80000 TANITIM ILETISIM ISTANBUL (27.06 Turkish Lira)
Simultaneous thoughts of "Oh crap" & "WTF!?" rush through your brain. Followed immediately by: "How'd they get my credit card? I better ring the bank, reverse the charge, and get a new card…"

Then suddenly you remember. Could TANITIM ILETISIM ISTANBUL be Itself, that cute t-shirt site you bought a t-shirt from last week? A quick email to their support team answered my question in the positive. Phew.
The review: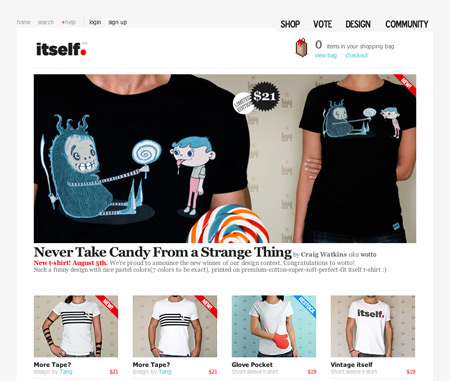 The good
Itself is a well designed site that is clean and visually appealing. The checkout process is easy to complete and they've definitely thought about most of the interactions users are going to have with them and worked to make them simple. Given how much Threadless has led the charge in this area it's not surprising to see others follow.
I do like the t-shirts they offer and the fact they've limited it to only a handful of designs. Itself's shipping costs to NZ were quite reasonable and they definitely out perform Threadless when it comes to packaging – beautiful in comparison. Their comms and support are also very good – for instance they don't charge you until your t-shirt has been shipped.
The bad
The whole credit card charging scenario I went through above is a major let down for Itself. I felt they weren't upfront about being a Turkish company or what I could expect to see on my credit card bill. I just don't understand why companies don't charge with their brand name!?
It's not an issue about Itself being Turkish, the problem is purely that my expectations are that when I order a t-shirt in US Dollars from a .com English language website, then I'm going to expect to see a US-based charge. Not an Istanbul charge in Turkish Lira with a name I don't recognise! Seriously Itself has no idea how close they came to having the transaction reversed/canceled.
The t-shirts themselves are ok – but they're the kind of t-shirts that only look good on people who go to the gym. A lot. (If you're one of those people then this won't be a bad thing…) This is purely a style call.
Here's the actual t-shirt I bought. Love the simplicity quote so had to have the tee: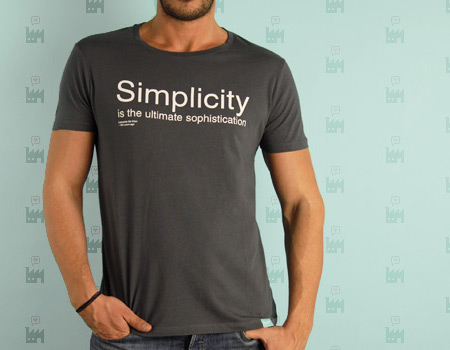 Wee note: Part of the reason I'm posting this is in case anyone else has the same freak-out when seeing their credit card and Google's the charge name. If that's you, do leave a comment…