Sign up forms really do need to die. And yet its such an ingrained part of our thinking and practice with websites, both as users and as webbies. This certainly isn't a new topic but it's a great one to think about because it can have such a huge impact on our users' experience.
One of the better articles you can read on this subject is an excerpt posted on A List Apart from LukeW's semi-recent book: Web Form Design: Filling in the Blanks. I have to quote the opening paragraph:
I'll just come out and say this: sign-up forms must die. [You've] stumbled upon or been recommended to a web service. You arrive eager to dive in and start engaging and what's the first thing that greets you? A form.
The simple question is why does your service need to know information like your birthday or last name to allow you to post a video or start a blog or to play a game or whatever? Why not allow your users to get stuck in, see the value of using your service, and only ask for the info when it is needed to advance the task or experience?
One of the best examples I've seen of this recently was Posterous. Consider their homepage: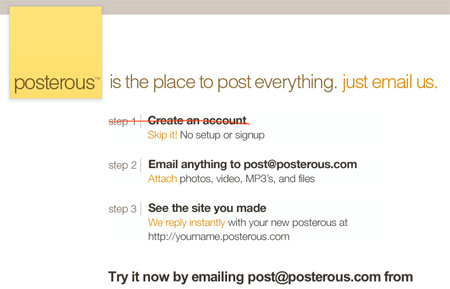 I love the: "Skip it! No setup or signup". Posterous is seriously cool – it can even tie in with your blog to make it super simple to email anything to your blog. Give it a go now, just email: post@posterous.com
As soon as you start thinking about how gradual engagement could work for your service you'll start to feel like you've been freed from some kind of web-oppressor. We're working on something really neat at Ponoko (launch is very close) following these rules. I can't wait.
A big thanks to Jeffrey for helping make me passionate about the use and abuse of forms.