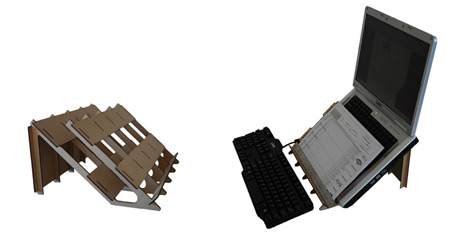 I was surprised and chuffed to see my groovy Stiletto Laptop Stand get a quick review on CNet by Michelle Thatcher:
It's bad enough that my vacation's over, but the sudden withdrawal of natural materials is really bringing me down. Which is why the wooden Stiletto laptop stand spoke to me…
The basic design idea, or brief, came from my father who wanted some laptop stands for his mobile computer suite. We spent the better part of a weekend designing and cutting out prototypes (5 in total) before we arrived at the finished and perfected result.
It's another great example of what's possible with Ponoko. Not only can we help you create a truly original and personal piece but we can help expose it to the rest of the world. Brilliant.
I can't work without mine now and I'm slowly converting the others in the office. If anyone would like one of these stands, let me know, I'll give you a special Umamiblog discount.
Update:  And another quick review on PopGadget – "The Stiletto is a laptop stand with style"