For the first half of this year when I was still at Intergen one of the major projects I was working on was ActionThis. It was a load of fun and I learnt a tonne from working on it. Indeed, the most popular post on my blog at the time of writing is the post where I introduced ActionThis for the first time.
I visited the website today and got excited to see the site had changed – including this groovy looking button on the right of the homepage above the fold: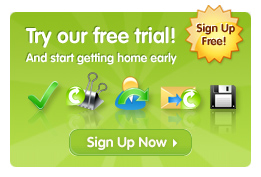 Cool! It's a free trial and I can sign up now. I clicked on the link and was led to: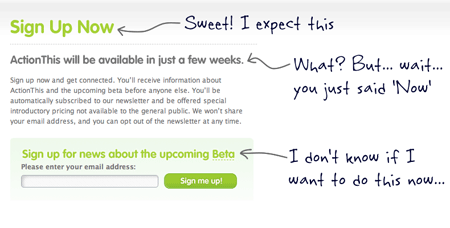 Hang on, you said I could sign up now. You didn't say I'd have to wait for a few weeks!
People are ruthlessly brutal with their expectations these days and you really only get one chance (if you're even that lucky) to make the impression you want. Any mistake you make, and remember this is purely in the eyes of your potential users, will be paid for.
You can't really afford to do anything expect put your best foot forward… and then do better.